About Us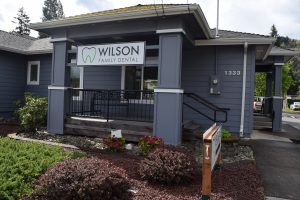 Wilson Family Dental is your local Dental office, in Roseburg, Oregon, that will take care of your dental needs. Dr. Wilson is a member of the American Dental Association, accredited by the Better Business Bureau, and belongs to the Oregon Dental Association. Dr. Wilson along with his staff, take great care and pride in providing premiere dental services for all of our patients.
Here at Wilson Family Dental, a variety of dental services is provided. This includes, but is not limited to: dental restorations, extractions, dental veneers, root canals, crowns and bridges, dentures, periodontics maintenance, and bi-annual cleanings. With each of our services, we strive to reach the high standard of care that we have set. We also have urgent care options. If there is a need for an emergency appointment, we can help.
Our goal here at Wilson Family Dental is, for each of our patient's to experience excellent dental care, that is as efficient, honest and as painless as possible.